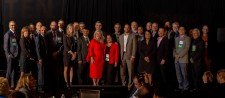 Noopur Davis of Comcast, Horizon Blue Cross Blue Shield of New Jersey and MassMutual Claim Top Awards. Steve Kozman of AIG Named People's Choice Award Winner.
Atlanta, October 4, 2018 (Newswire.com) - T.E.N., a technology and information security executive networking and relationship-marketing firm, honored finalists and winners Wednesday evening, October 3, at the 2018 ISE® Northeast Executive Forum and Awards Gala at the Westin Times Square in New York City.
Noopur Davis, SVP and Chief Product & Information Security Officer for Comcast, was selected as the Information Security Executive® of the Year Award winner for the ISE® Northeast Region.
​Noopur Davis is the Chief Product and Information Security officer for Comcast. Her responsibilities include information, infrastructure and product security. Noopur ensures best practices are built into all product development and operations activities to mitigate potential security risks. She partners with peers across the company to ensure alignment with overall company security and privacy strategy. Noopur oversees product security and privacy, identity and access management, governance, risk, and compliance, security intelligence and analytics, security engineering, security operations and incident response, vulnerability management, security architecture, and much more.
Steve Kozman, SVP of Identity Access Management and Security Services with AIG, was honored during the event as the 2018 ISE® Northeast People's Choice Award winner. This award represents the nominee who best exemplifies information security leadership as voted on by his peers in information security.
Horizon Blue Cross Blue Shield of New Jersey's "Early Vulnerability Detection System (EVDS)" and MassMutual's "Cyber Strong Behavior Program" shared the honor of being chosen as the ISE® Northeast Projects of the Year.
Niraj Patel, Manager of Enterprise Security Architecture for Horizon Blue Cross Blue Shield of New Jersey, accepted their award on behalf of the project. The Early Vulnerability Detection System (EVDS) identifies vulnerabilities throughout a project lifecycle and facilitates development of multiple levels of defenses within our applications. The EVDS is a combination of people, process and technology that fully adjusts to the polymorphic nature of current technology solutions. Security recommendations are delivered via the basic elements of a standard project: business requirements, architecture design and test cases. The EVDS has already identified and remediated multiple critical vulnerabilities that would have resulted in catastrophic breaches.
MassMutual's Tess McCarthy, Employee Resilience Strategist, accepted the award on behalf of their project. MassMutual's Cyber Security Awareness program enabled the company to establish a Cyber Strong culture through the implementation of a data driven behavioral recognition and repercussion program. The program established a menu of highly visible solutions that could be deployed to recognize positive employee behaviors reported by peers or identified through technical monitoring capabilities. By championing positive behaviors and addressing negative behaviors, the company highlighted the criticality of protecting the company's valuable digital assets and enabled all associated to keep security front of mind.
"This year's executive and project nominees were some of the most outstanding that our judges have ever seen," said T.E.N. CEO and President Marci McCarthy. "Each of these executives and project teams exhibits the drive, passion, and dedication to Information Security for which the ISE® Awards stand and we are honored to have each and every one of them join the ranks of our distinguished ISE® Alumni."
A full list of nominees can be found on the T.E.N. website:
Executives: http://www.ten-inc.com/ise/northeast/exec_nominees.asp
​Projects: http://www.ten-inc.com/ise/northeast/project_nominees.asp
The ISE® Northeast Awards recognize both information security executives and projects for outstanding achievements in risk management, data asset protection, compliance, privacy and network security. Award winners were selected from the U.S. Northeast region, which includes Connecticut, Delaware, Maine, Massachusetts, New Hampshire, New Jersey, New York, Pennsylvania, Rhode Island, Vermont and Washington D.C.
The event is made possible by our Exabyte Sponsor: Valimail; our Kilobyte Sponsors: Attivo Networks, Expel, Leidos, Prevoty, Qualys, Saltworks Security, Splunk, Vectra, WaveStrong and Wombat Security; and our Display Sponsors: Entrust Datacard, Forescout, NSS Labs, Reliaquest and Sumologic.
Learn more online: http://www.ten-inc.com/ise/northeast/sponsors.asp.
About T.E.N.
T.E.N., a national technology and security executive marketing and networking organization, facilitates peer-to-peer relationships between top executives, industry visionaries and solutions providers in the cybersecurity industry. Nominated for numerous industry awards, T.E.N.'s executive leadership programs enable information exchange, collaboration and decision-making opportunities for Information Security Executives and cybersecurity solution providers alike. Its flagship program, the nationally-acclaimed Information Security Executive® (ISE®) of the Year Program Series and Awards, is North America's largest leadership recognition and networking program for security professionals. In addition, T.E.N. offers the ISE® Lions' Den and Jungle Lounge, wherein emerging cyber security companies have the opportunity to showcase their solutions to major security executives in a competitive rapid-fire event. T.E.N. also delivers ISE® Private Dinners across 44 major cities throughout the U.S. and Canada to create even more opportunities for Information Security Executives, professionals and security solution providers to Connect, Collaborate, and Celebrate.
About ISE® Award Program Series
For more than a decade, the Information Security Executive® (ISE®) of the Year Award Program Series has empowered security executives and their project teams to Connect, Collaborate and Celebrate. Recognized as the industry's most prestigious IT Security award program, it has become the most anticipated award program for security executives and their project teams. Winners have included executives and project teams from leading organizations such as Aetna, AT&T, Bank of America, Comcast, Cox Automotive, Ellie Mae, Equifax, HMS, Jabil, PayPal, and SunTrust.
Our distinguished ISE® Judges are past nominees representing a cross-section of industries, including commercial, government, healthcare and academic sectors. For this reason, the ISE® Awards represent the best achievements of the year as evaluated by those regarded as the industry's most influential and successful thought leaders. Coupled with a one or two-day executive summit, the ISE® Awards are held across the country and Canada in major cities including Atlanta, Chicago, Dallas, New York, and San Francisco. The ISE® Awards Program Series has reached more than 10,000 executives across a broad range of industries and has been a major influence in executives' careers, knowledge sharing, and the development of peer-to-peer relationships.
Source: T.E.N.
Share: