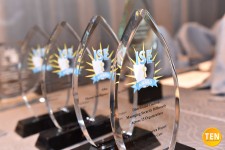 All Executive and Project Category Awards Announced at ISE® North America Leadership Summit and Awards Gala on Nov. 8-9, 2018.
ATLANTA, October 16, 2018 (Newswire.com) - T.E.N., a technology and information security executive networking and relationship-marketing firm, announced today the nominees vying for the 2018 Information Security Executive® and Project of the Year Awards for North America. Executives include top-ranking decision makers representing organizations in the academic and public sectors, commercial, financial services, and health care. Projects include large-scale technology endeavors that address key issues in the information security industry.
Executive Nominees
Academic/Public Sector
Medha Bhalodkar, CISO, Columbia University
Rizwan Jan, CIO & CISO, Henry M. Jackson Foundation for the Advancement of Military Medicine
Wes Knight, CISO, GA Department of Revenue
Helen Patton, CISO, The Ohio State University
Commercial
Andrea Abell, CISO, NBCUniversal Media
Noopur Davis, SVP, Chief Product & Information Security, Comcast
Gary Eppinger, Global VP, CISO and Privacy Officer, Carnival Corporation
Melody Hildebrandt, Global CISO, 21st Century Fox
John Kirkwood, Vice President, Information Technology and Chief Information Security Officer, Albertsons Companies
Pietr Lindahl, Sr. Director, Cyber Strategy, Architecture, Engineering, & Integration, Philips
Ariel Litvin, CISO, First Quality Enterprises
Tomás Maldonado, CISO, International Flavors & Fragrances Inc.
Chuck Markarian, CISO, PACCAR
Scott McBee, Information Security Executive (CISO), Darden Restaurants
Jerry Scott, Global SOC Director, Schenker
Bob Varnadoe, CISO, NCR Corporation
Financial Services
Clayton Chandler, Global Head of Cyber Security, Credit Suisse
Marc Crudgington, CISO, SVP Information Security, Woodforest National Bank
Steve Kozman, SVP, Identity Access Management and Security Services, AIG
James Quadarella, Managing Director, Head of Cybersecurity Operating Office, MUFG Union Bank N.A.
Parthiv Shah, Senior Vice President, Chief Information Security Officer, Signature Bank
Billy Spears, SVP, CISO, loanDepot
Jason Witty, EVP, Chief Information Security Officer, U.S. Bank
Health Care
Terri Cetera, Sr. Director IT Security, Quest Diagnostics
Nicole Darden Ford, Vice President, IT – Global Information Security & Chief Information Security Officer, Baxter International
Fred Kwong, CISO, Delta Dental Plans Association
Kurt Lieber, Vice President, CISO, Global Security Aetna Core, Aetna
Scott Pettigrew, VP, Chief Security Officer, HMS
Scott Stanton, Sr. Manager Infrastructure Security, Halyard Health
Alden Sutherland, CISO, AmerisourceBergen
Project Nominees
Academic/Public Sector
Columbia University, Rebuilding Identity Access Management for the 21st Century
Georgia Department of Revenue, CISO Sentinel Security and Compliance Risk Management Platform
Pearson, Global Monthly Patching
Commercial
Aaron's, Incident Response Transformation
Albertsons Companies, PCI Submission Relief
AT&T, Flood 2.0
AT&T, CSO Smart City Security Simulator
NCR Corporation, Security Vision 20/20
Philips, DMARC Email Security
Shell, Digital Transformation (IAM): Enterprise User Access Management/Shell Identity Management (EUAM|SIM)
Sony Interactive Entertainment, SIE CloudPassage Halo Project
T-Mobile, Cybersecurity Transformation: Shifting Security LEFT
Tampa Electric Company, NERC CIP Standards Version 5 Implementation Project
Financial Services
ADP, Aletheia
ADP, Global Third-Party Risk Management (GTPRM) 2.0
Horace Mann, Blend the NOC and SOC Together, Creating an Integrated Operations Center (IOC)
MassMutual, Cyber Strong Behavior Program
Morningstar, Morningstar Security Champion Program
U.S. Bank, Access Management: Unified Next Generation Identity Governance Across U.S. Bancorp
Health Care
Aetna, The Aetna Entitlements, Identity, & Risk System (AEIRS)
AmerisourceBergen, Omniscient Eye - Data Protection
AmerisourceBergen, Precog - Cyber Threat Prediction and Detection Platform
Children's Healthcare of Atlanta, Mobile Clinician Project
HMS, Business Resilience – Changing the Culture from Continuity to Resilient Enterprise
HMS, Secure Cloud Infrastructure
HMS, Security Risk Management & Assurance Program – Bringing it all Together!
Horizon Blue Cross Blue Shield of New Jersey, Early Vulnerability Detection System (EVDS)
Full project descriptions can be found online: http://www.ten-inc.com/ise/north_america/project_nominees.asp
"We are incredibly impressed by the leadership and creativity displayed in this year's ISE® North America executive and project nominees," said T.E.N.'s CEO and President, Marci McCarthy. "These executives and project teams work diligently to protect North America from the ever-evolving threats we face today in the rapidly-developing security landscape, and we are pleased to have them join the ranks of our ISE® Alumni."
The ISE® North America Awards recognize executives and projects, which have made a positive impact on their organizations through risk management, data-asset protection, regulatory compliance, privacy, and information security. Nominations are sent to T.E.N.'s distinguished panel of ISE® judges for review and scoring.
This year's ISE® North America Judges include:
Eric Schmidt, Director of Information Systems Security & CISO, Butler University
Joe Bennett, VP & CISO, Hertz Corporation
Joey Johnson, CISO, Premise Health
Donna Nemecek, VP of Risk & Compliance, BNY Mellon
Paul Huesken, Chief Information Assurance Officer, Coca-Cola Company
Chris Ray, CISO, TriNet
All nominees will be recognized at the ISE® North America Leadership Summit and Awards on Nov. 8-9, 2018 at the Summit Chicago and Hyatt Regency Chicago in Chicago, Illinois. Event attendees can earn up to 9 CPEs for participating in the two-day leadership summit, which will offer dynamic presentations and engaging roundtable discussions—led by ISE® Alumni—highlighting a spectrum of the industry's most critical issues and innovative best practices. Finalists and winners are announced at the awards gala that evening and recognized through press coverage and inclusion on the T.E.N. website.
About T.E.N.
T.E.N., a national technology and security executive marketing and networking organization, facilitates peer-to-peer relationships between top executives, industry visionaries and solutions providers in the cybersecurity industry. Nominated for numerous industry awards, T.E.N.'s executive leadership programs enable information exchange, collaboration and decision-making opportunities for Information Security Executives and cybersecurity solution providers alike. Its flagship program, the nationally-acclaimed Information Security Executive® (ISE®) of the Year Program Series and Awards, is North America's largest leadership recognition and networking program for security professionals. T.E.N. delivers ISE® Private Dinners across 44 major cities throughout the U.S. and Canada to create even more opportunities for Information Security Executives, professionals and security solution providers to Connect, Collaborate, and Celebrate.
About ISE® Award Program Series
For more than a decade, the Information Security Executive® (ISE®) of the Year Award Program Series has empowered security executives and their project teams to Connect, Collaborate and Celebrate. Recognized as the industry's most prestigious IT Security award program, it has become the most anticipated award program for security executives and their project teams. Winners have included executives and project teams from leading organizations such as Aetna, AT&T, Bank of America, Comcast, Cox Automotive, Ellie Mae, Equifax, HMS, Jabil, PayPal, and SunTrust.
Our distinguished ISE® Judges are past nominees representing a cross-section of industries, including commercial, government, health care, and academic sectors. For this reason, the ISE® Awards represent the best achievements of the year as evaluated by those regarded as the industry's most influential and successful thought leaders. Coupled with a one- or two-day executive summit, the ISE® Awards are held across the country and Canada in major cities including Atlanta, Chicago, Dallas, New York, and San Francisco. The ISE® Awards Program Series has reached more than 10,000 executives across a broad range of industries and has been a major influence in executives' careers, knowledge sharing, and the development of peer-to-peer relationships.
Source: T.E.N.
Share: