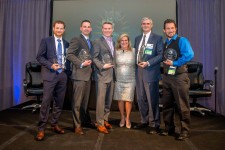 The first ISE® Program of 2017 awarded honored executives and teams before a crowd of their peers
Atlanta, Georgia, March 15, 2017 (Newswire.com) - T.E.N., a technology and information security executive networking and relationship-marketing firm, honored cyber security executives and their project teams on Tuesday evening, March 14, 2017 at the ISE® Southeast Executive Forum and Awards Gala at the Westin Peachtree Plaza Downtown in Atlanta, GA.
Joseph Johnson, Chief Information Security Officer of Premise Health, was selected as the Information Security Executive® of the Year Award Winner for the ISE® Southeast Region. In his time at Premise Health, Joey has been instrumental in implementing a proactive security and risk management environment focused organizational risk awareness, secure development methodologies, and rapid detection and response to organizational threats. He successfully launched a cutting-edge vendor and business associate maturity development program that dynamically empowered business partners of various scales and complexity to meet challenging security and compliance demands
Dave Summitt, Chief Information Security Officer of Moffitt Cancer Center & Research Institute was honored during the event as the 2017 ISE® Southeast People's Choice Award. This award represents the nominee who best exemplifies information security leadership as voted on by his peers in information security.
Aflac's "Deception Project" and Bank of America's "Identity and Access Management (IAM) Transformation Program" shared the honor of being selected as the ISE® Southeast Projects of the Year.
DJ Goldsworthy, Sr. Manager Threat & Vulnerability of Aflac, accepted on behalf of the project. Aflac's Deception Project set out to implement a deception-based solution that would help them address a gap in their ability to early and accurately detect advanced threats that were inside their network. They adopted deception, and by deploying it comprehensively across their environment, have been able to flip the playing field and create an environment saturated with pitfalls that a threat actor now has to evade with 100 percent accuracy to evade detection.
Brian Metzner, SVP, Identity & Access Management of Bank of America accepted the award on behalf of the project. In late 2015, Bank of America's Global Information Security team began the implementation of a new program to transform identity and access management (IAM) and reduce overall risk across the enterprise. The new program streamlined 27 review systems into one and 20 request systems into one – resulting in an efficient, user-friendly access management program that makes it easier for users to make accurate and effective access request and review decisions.
"Our judges faced a difficult challenge in evaluating such a high caliber group of executive and project nominees," said T.E.N. CEO and President Marci McCarthy. "Each of them exhibits the innovation and ingenuity for which the ISE® Southeast Awards stand and we are honored to have each and every one of join the ranks of our distinguished ISE® Alumni."
Full list of nominees can be found on the T.E.N. website:
Executive: http://www.ten-inc.com/ise/southeast/exec_nominees.asp
Project: http://www.ten-inc.com/ise/southeast/project_nominees.asp
The ISE® Southeast Awards recognize both information security executives and projects for outstanding achievements in risk management, data asset protection, compliance, privacy and network security. Award winners were selected from the U.S. Southeast region, which includes Alabama, Florida, Georgia, Kentucky, Maryland, Mississippi, North Carolina, South Carolina, Tennessee, Virginia and West Virginia. The event is made possible by kilobyte sponsors: Attivo Networks, Cisco, Digital Guardian, Fidelis Cybersecurity, PhishMe, ProtectWise, Splunk and TrapX and display sponsors: Blancco, Contrast Security, Cybereason, FireEye, illusive networks, Imperva, Infoblox, Optiv, SailPoint, Tanium and Varonis. Learn more online: http://www.ten-inc.com/ise/west/sponsors.asp
About T.E.N. 
T.E.N., a national technology and security executive marketing and networking organization, facilitates peer-to-peer relationships between top executives, industry visionaries and solutions providers in the cybersecurity industry. Nominated for numerous industry awards, T.E.N.'s executive leadership programs enable information exchange, collaboration and decision-making opportunities for Information Security Executives and cybersecurity solution providers alike. Its flagship program, the nationally-acclaimed Information Security Executive® (ISE®) of the Year Program Series and Awards, is North America's largest leadership recognition and networking program for security professionals. T.E.N. delivers ISE® Private Dinners across 42 major cities throughout the U.S. and Canada to create even more opportunities for Information Security Executives, professionals and security solution providers to Connect, Collaborate, and Celebrate.
About ISE® Award Program Series
For more than a decade, the Information Security Executive® (ISE®) of the Year Award Program Series has empowered security executives and their project teams to Connect, Collaborate and Celebrate. Recognized as the industry's most prestigious IT Security award program, it has become the most anticipated award program for security executives and their project teams. Winners have included executives and project teams from leading organizations such as Aetna, AT&T, Bank of America, Comcast, Cox Automotive, Ellie Mae,​ Equifax,​ HMS,​ Jabil, PayPal, and SunTrust.
Our distinguished ISE® Judges are past nominees representing a cross section of industries, including commercial, government, health care and academic sectors. For this reason, the ISE® Awards represent the best achievements of the year as evaluated by those regarded as the industry's most influential and successful thought leaders. Coupled with a one or two-day executive summit, the ISE® Awards are held across the country and Canada in major cities including Atlanta, Chicago, Dallas, New York and San Francisco. The ISE® Awards Program Series has reached more than 10,000 executives across a broad range of industries and has been a major influence in executives' careers, knowledge sharing, and the development of peer-to-peer relationships.
# # #
Note to editors: Trademarks and registered trademarks referenced herein remain the property of their respective owners.​
Source: T.E.N.
Share: