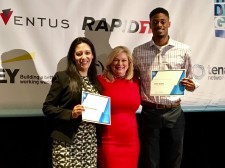 Second Annual Recipients of Cybersecurity Scholarship Announced During ICMCP's 2017 National Conference of Minority Cybersecurity Professionals
Atlanta, Georgia, March 21, 2017 (Newswire.com) - T.E.N., a technology and information security executive networking and relationship-marketing firm; and ISE® Talent, an information security recruiting firm specializing in executive-level searches as well as high-demand industry skill-sets and specializations, awarded the Marci McCarthy Cybersecurity Certification Scholarship Program to its newest two undergraduates during the 2017 National Conference of Minority Cyber Security Professionals hosted by the International Consortium of Minority Cybersecurity Professionals (ICMCP) last Thursday, March 16, 2017. Marci McCarthy, CEO & President of T.E.N. and CEO & Chairman of ISE® Talent, announced that after a thorough and extensive decision process, Drew Grant and Jhanina Santiago would be the newest scholarship recipients.
The Marci McCarthy Cybersecurity Certification Scholarship Program provides $5,000 over a two-year period to help talented, high-achieving Female, Veteran, African American, Hispanic American, Native American, Asian Pacific, Asian Indian, or sub-Saharan African active ICMCP members who have demonstrated academic excellence, leadership skills, and a commitment to Science, Technology, Engineering & Math (STEM) careers including cybersecurity, digital forensics, and information assurance.
"Drew Grant and Jhanina Santiago both displayed a lot of passion, drive, and dedication; they both have the makings of outstanding cybersecurity professionals. I know that both of them will go on to do fantastic things and be leaders and innovators in the field of cybersecurity," said McCarthy.
Grant is currently pursuing a career in cybersecurity by studying Electrical and Computer Engineering at Morgan State University. His extracurricular participation in the Embedded Cyber-Security Systems Group at Morgan State University's Electrical and Computer Engineering research lab has been instrumental in piquing his interest in a cybersecurity career and honing his skills and understanding of the industry. Grant's commitment to Cybersecurity is staunch, as he plans to pursue a graduate degree in Electrical Engineering with a concentration in Embedded Systems immediately upon receiving his Bachelor of Science. He believes this will enable him to develop the skills required to design and innovate secure and dependable Internet of Things (IoT) devices.
"I had a wonderful experience at this year's ICMCP National Conference," said Grant. "I connected with amazing professionals and fellow students from all over the country. It was a tremendous honor to be announced as a Marci McCarthy Cybersecurity Certification Scholarship recipient. As a hardworking engineering student, it was very encouraging to be recognized for my achievements and motivating to keep aspiring for greater. I plan to graduate with my Bachelor of Science in Electrical and Computer Engineering and then attend a graduate program to develop advanced technical skills that will thrust my career into the cybersecurity field."
Santiago has always had a desire to work in the information technology industry. Initially, she pursued a degree in Computer Science at the University of Maryland in College Park. Those college years taught her valuable lessons in perseverance, time management, sacrifice, and adaptability. As a stay-at-home mother, Santiago was awarded the unique privilege of a second chance to pursue her passion—the time working at home allowed her to evaluate and reset her career goals. The tremendous growth of "The Internet of Things," cloud computing, mobile devices, and globalization sparked Santiago's interest in cybersecurity. A graduate of the University of Maryland University College, Santiago holds a Bachelor of Science in Computer Studies and in December of 2016, she earned a Certification of Graduate Studies in Cybersecurity and Intelligence with high marks.
"These dedicated professionals really have put love, sweat and time into diversity inclusion awareness within the cyber space," said Santiago. "This annual conference was geared towards educating, providing a professional networking environment, and serving as inspiration to those like myself who aspire to develop a career in cybersecurity. I was very excited, shocked, and grateful to be selected for the Marci McCarthy Cybersecurity Certification Scholarship. I am still on cloud nine. Eventually, I would like to be involved with national cyber initiatives to prevent human trafficking and cyber espionage."
"This scholarship was formed because, as a woman in information security, it is my passion and goal to ensure women and minorities have every opportunity to establish a career in this industry. Furthermore, through them, I hope we can cultivate a future filled with the highest caliber experts that cybersecurity has ever seen," said McCarthy.
Applicants must be: 
Female, Veteran, African American, Hispanic American, Native American, Asian Pacific, Asian Indian or sub-Saharan African active ICMCP Members
U.S. citizens or permanent residents
Active as a volunteer on one or more ICMCP Committees
ICMCP Scholarship Application: https://icmcp.org/programs/educational-funding/
About T.E.N.
T.E.N., a national technology and security executive marketing and networking organization, facilitates peer-to-peer relationships between top executives, industry visionaries and solutions providers in the cybersecurity industry. Nominated for numerous industry awards, T.E.N.'s executive leadership programs enable information exchange, collaboration and decision-making opportunities for Information Security Executives and cybersecurity solution providers alike. Its flagship program, the nationally-acclaimed Information Security Executive® (ISE®) of the Year Program Series and Awards, is North America's largest leadership recognition and networking program for security professionals. T.E.N. delivers ISE® Private Dinners across 42 major cities throughout the U.S. and Canada to create even more opportunities for Information Security Executives, professionals and security solution providers to Connect, Collaborate, and Celebrate. For information, visit http://www.ten-inc.com.
About ISE® Talent 
ISE® Talent specializes in executive-level searches as well as high-demand industry skill-sets and specializations. ISE® Talent also puts an emphasis on emerging specializations, and critical security skill sets that translate across all industry verticals. More than just a search firm, ISE® Talent serves as a trusted partner in identifying, evaluating, recruiting, and presenting top level candidates that fit our clients' unique requirements. A 100% woman-owned business, ISE® Talent is a division of T.E.N., the leading national technology and security executive networking firm that facilitates peer-to-peer relationships between top executives, industry visionaries and solution providers. Learn more about ISE® Talent by visiting http://www.isetalent.com
About ICMCP 
The ICMCP, launched in 2014, is a volunteer-led 501(c) 3 non-profit organization. ICMCP is working to bridge the minority gap in the cybersecurity sector by providing scholarship opportunities, technical training programs, innovative outreach, mentoring and networking programs targeting women and minority cybersecurity professionals worldwide and by promoting academic and technical excellence in the industry. Learn more about ICMCP by visiting http://www.icmcp.org 
Source: www.ten-inc.com
Share: